Products Guide
H20PN-181 series PTN CPE


Overview

H20PN-181 series PTN (packet transport network) CPE (Customer Premise Equipment) device from Beijing Huahuan Electronics Co., Ltd, on the basis of high-performance L2 switch service, provide convenience of maintenance and deployment, multi-service support, carrier-class OAM management, reliable protection mechanism, QoS policy, security mechanism, and other service optimization measures. Meanwhile, it features excellent extensibility and reliability.
This series, including H20PN-181-2GX.4GE-P, H20PN-181-2GX.2GE.4E1-SP, can provide GE interface, GX interface, E1 interface, RJ-45 NM port, and RJ-45 CONSOLE port and clock interface.
H20PN-181 series support the latest carrier Ethernet attributes and is compatible with IEEE, ITU, and MEF standards. These series devices apply packet transmission technology, support complete OAM function, convenient for network management and maintenance, the carrier-class OAM has enhanced network management capacity and meets the operator's requirements for comprehensive and powerful capacity of monitoring and management. QoS function has extended the scope of carrier Ethernet, applying it to real-time service, i.e. voice and video. S-VLAN ID is used to implement VLAN extensibility and provides service for hundreds of enterprise users and hundreds of thousands of individual users. Support connection-oriented MPLS-TP technology; support complete alarm and performance management function.
Table 1.H20PN-181series detailed difference
Device name

GE optical interface

GE electrical interface

E1 interface

NM port

CONSOLE

Port

H20PN-181-2GX.4GE-P

2, SFP

4,RJ45

0

1,RJ45

1

H20PN-181-2GX.2GE.4E1-SP

2, SFP

2,RJ45

4

1,RJ45

1
Features
² Adopt MPLS-TP technology and support static LSP, MPLS-TP L2VPN,MPLS-TP OAM, MPLS-TP APS functions;
² Multiple services, including E-Line, E-LAN, E-Tree, CES and SDH;
² QoS management, including port speed limit, port mirroring, priority trust, flow classification, flow behavior, flow policy, priority mapping, queue scheduling, congestion avoidance, traffic shaping, and trafficstatistics;
² Reliable protection mechanism, including ELPS, ERPS, Link Aggregation (manual LAG and static LACP), and STP/RSTP;
² H20PN-181-2GX.2GE.4E1-SP can support Synchronous Ethernet;
² Ethernet OAM protocols including IEEE 802.3ah, IEEE 802.1ag and ITU-T Y.1731, providing standard OAM active mode and passive mode, OAM link discovery, OAM remote loopback and OAM link event;
² Real-time SLA network performance detection can collectstatistics of response time, network jitter, delay, packet loss rate, and othernetwork information;
² Based on PWE3 protocol framework ,support circuit simulation of E1 services over Ethernet link, using SAToP protocol and MPLS, IP/UDP, MEFencapsulation method;
² IEEE 802.1Q VLAN and IEEE 802.1ad VLAN;
² Interface loopback function;
² Loop detection function;
² Jumbo frame setting (maximum 9720 bytes);
² Flow control;
² DDM;
² MAC Address control;
² ACL;
² Broadcast storm repression;
² Remote in-band monitoring management;
² DHCP client and zero configuration function;
² Remote power failure alarm;
² EzView network management, SNMP and CLI;
² NTP and RMON;
² Upgrade of software through TFTP
Typical application

Figure1. Point-to-point network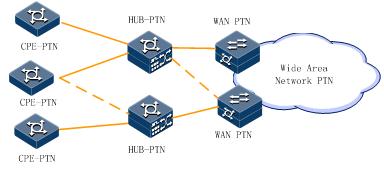 Figure2. Star network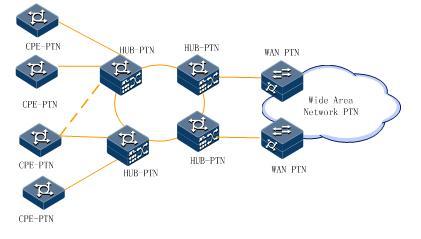 Figure 3. Ringnetwork
Functions
| | |
| --- | --- |
| Item | Descriptions |
| Remote management | In-band and out-band NM interface setup, telnet client and console port, SNMP V2C/V3, EzView management. |
| IEEE 802.1ah | Dying gasp, link fault, remote loopback |
| Ethernet OAM | IEEE 802.1ag, Y.1731, performance monitoring and fault management, including CC/LB/LT/AIS/LCK/MD/MA/MEP/RME/fault ACK, frame delay measurement, RFC2544 test and in-service test. |
| RMON | Remote monitoring, 1/2/3/9 group MIB |
| Upgrade | Through FTP/TFTP |
| Statistics | Based on port, RFC1213 standard error frame statistics |
| SyncE | External clock input, Ethernet line input, CES service input, local clock, external clock 2Mbit/2MHz, G.8262, G.781, using SSM-QL transmitting clock quality by ESMC |
| MPLS-TP | MPLS-TP FLOW, MPLS-TPLSP, MPLS-TP TUNAL, CLEAR FLOW STATISTICS, MPLS-LSP OAM,MPLS-TP PW OAM, MPLS-TP segment OAM, protection switch |
| Link aggregation | Six load sharing algorithms: S-MAC, D-MAC, S-MAC+D-MAC, S-IP, D-IP and S-IP+D-IP. |
| VLAN | IEEE 802.1Q, most 4094, access/trunk/hybrid mode |
| Q in Q | Basic and flexible VLAN, support VLAN switch, outer TPID and inner TPID |
| Congestion control | WRED(Weighted Random Early Detection), discarding ratio 1%-100% |
| ARP | Static and dynamic |
| DHCP client | IPv4 |
| DDM | Monitor optical port connection status and quality and the intelligent optical module's emission optical power, reception optical power, temperature, work voltage, laser offset current, and other parameters. |
| Flow control | IEEE802.3x under full-duplex |
| LLDP | Based on IEEE 802.1ab, NMS can quickly master topology and changing conditions of layer-2 network. |
| SYSLOG | System log server information and table |
| ELPS | G.8031 |
| ERPS | G.8032,wrapping and steering protection revert, ≤50ms |
| QoS | CoS priority, DSCP priority, SP/WRR/DRR/SP+WRR/SP+DRR |
| ACL | IP ACL, MAC ACL,USER ACL,FILTER,ACL MAP |
| SLA | L2/L3 SLA, L2 network latency/jitter testing, L2 discarding testing |
Specifications
10/100/1000 Base-Tx Interface

Interface specifications

Complying with IEEE 802.3, IEEE-802.3u, IEEE 802.1Q, IEEE 802.1p

Interface rate

10M/100M/1000M

Operation mode

Auto-negotiation, 1000M full-duplex, 1000M half-duplex, 100M full-duplex, 100M half-duplex, 10M full-duplex, 10M half-duplex

Interface connector

RJ-45 socket

Interface number

2,4

100/1000Base-Fx Interface

Interface specifications

Complying with IEEE 802.3, IEEE-802.3z, IEEE 802.1Q, IEEE 802.1p, IEEE802.1ad, IEEE802.1d, IEEE802.1w, IEEE802.3ad, IEEE802.3ah, IEEE802.1ag, Y1731

Interface rate

100M/1000M

Operation mode

Auto-negotiation, 1000M full-duplex, 100M full-duplex

Interface connector

SFP socket

Interface number

1,2

Transmission wavelength and distance

Determined by optical module

Power Supply

Voltage

AC~220V / DC -48V(-36V~-72V)

Power consumption

Consumption

≤30W

Environment

Working temperature

-5ºC ~55ºC

Storage temperature

-40ºC ~70ºC

Relative humidity

10%~90%(non-condensing)

Device

Size

W×D×H (mm):170×285×44

Weight

≤1.3kg