Products Guide
H20PN-2000 PTN Aggregation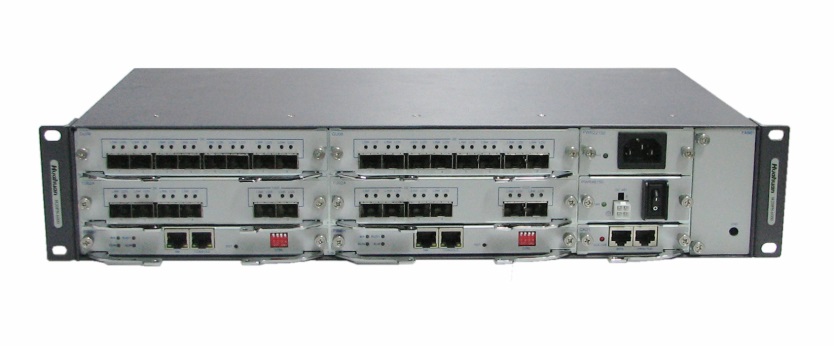 H20PN-2000 is a PTN Aggregation Devices designedand produced by Beijing Huahuan, providing strong capacity, high port-density,and kinds of ports with very compact chassis.
GE/FE/STM-1/STM-4/E1 ports are supported. TheH20RN Series focus on edge of providers' IP/MPLS transport network. They arevery suitable for delivering L2VPN, L3VPN, and CES services for customers withend-to-end guaranteed availability, reliability and QoS to the key client. Theyare designed to help providers overcome challenges over resources, costs andservices at the metro access layer, to bring values to both providers and theircustomers. Huahuan self-owned Unified NMS platform ---- EzView is offered forH20RN Series OAM.
Features
l Management Features
- CLI;
- GUI.
l Layer-2 Features
- MAC-Learning-Table control: Static/Dynamic MAC Address learning, MAC Address limitation based on Port/VLAN/VSIand MAC Address filtering based on black list/white list;
- Port-based VLAN and IEEE 802.1Q VLAN;
- Q in Q, including Basic Q in Q, flexible Q in Qand VLAN conversion;
- Storm suppression for broadcast/multicast/unicast;
- Loopback detection based on port and VLAN;
- Loopback control based on port, MAC address,C_tig label, S_tig label and IP address;
- STP/RSTP.
l OAM Features
- CFM: IEEE 802.1ag,ITU-T Y.1731;
- MPLS-TP OAM: including LSP/PW/Section.
l MPLS-TP Features
- Basic function of MPLS-TP;
- Static PW and LSP;
- L2VPN: E-LINE, E-LAN, E-TREE.
l Reliability Features
- Power supply 1+1 hot-standby;
- Switching unit 1+1 protection;
- Main control unit 1+1 protection;
- LACP for port protection;
- G.8031/G.8131 Linear protection;
- G.8032/G.8132 Ring protection.
l QoS Features
- ACL, including Standard ACL, Extended ACL,Layer-2 ACL, Hybrid ACL, Time period control of ACL;
- Traffic-classification: Based on port, MACaddress, IP address, C_tig, S_tig, COS, DSCP/TOS, MPLS EXP, TCP/UDP portnumber;
- Traffic Policing of Speed-limiting,traffic-redirection, traffic-remark, traffic-mirror;
- Queue based on SP, WRR, DRR, SP+WRR, SP+DRR;
- Speed-limiting based on port.
l CES Features
- CES based on SAToP;
- L2, UDP and MPLS encapsulation;
- TDM clock mode: Local, Adaptive, Loopback,Differential, External Clock;
- Built-in E1 BERT.
l Synchronization Features
- Sync-E:2MHz/2Mb clock input/output;
- 1588 PTP: 1PPS+ToD.
Ordering Info
Model

Info

Main Control Card

NM RJ45+Console port

Packet Interface Card

2*10GX Interface Card

8*GX Interface Card

4*GX Interface Card

8*FX/FE Interface Card

CES Card

E1 Circuit Emulation Service Interface Card

STM-1Circuit Emulation Service Interface Card

STM-4Circuit Emulation Service Interface Card

Power Supply Card

DC -48V Power Supply Card

AC 220V Power Supply Card

Clock Card

Clock Card

Fan Unit

Fan Unit