Products Guide
H18EDD-2402B Ethernet Aggregation

Overview
H18EDD-2402B is a 24-port Ethernet aggregation and access device produced by Beijing Huahuan Electronics Co., Ltd.On the basis of high-performance L2 switch service, the device provides convenience of maintenance and deployment, multi-service support, carrier-class OAM management, reliable protection mechanism, QoS policy, security mechanism,and other service optimization measures. Meanwhile, it features excellent extensibility and reliability.
H18EDD-2402B is a 1U rack-mounted device,which can aggregate 24 media converters. It provides 2 GE optical ports, 2 GE electrical ports and 24 FX optical ports, which can be configured to UNI or NNI ports flexibly, 1 FE electrical port as out-of-band management port, and RS232as CONSOLE port. H18EDD-2402B supports the latest carrier Ethernet attributes and conforms to IEEE, ITU, and MEF standards. The carrier-class OAM has enhanced network management capacity and meets the operator's requirements for comprehensive and powerful capacity of monitoring and management. QoS function has extended the scope of carrier Ethernet, applying it to real-time service,i.e. voice and video. S-VLAN ID is used to implement VLAN extensibility and provides service for hundreds of enterprise users and hundreds of thousands of individual users.
Features
l FX optical ports support auto-negotiation mode and 100M full-duplex manual mode; GE optical and electrical ports support auto-negotiation mode and 1000M/100M full-duplex manual mode, as well as AUTO-MDIX, i.e. automatically identify crossover or straight-through networkcables.
l IEEE802.1Q VLAN, IEEE802.1ad VLAN (at most 4094 VLAN entries).
l Carrier-class OAM management including EFM (Ethernetin the First Mile), CFM (Connectivity Fault Management) and SLA (Service LevelAgreement).
l STP/RSTP/MSTP (Spanning Tree Protocol/ RapidSpanning Tree Protocol/ Multiple Spanning Tree Protocol).
l Link aggregation (manual LAG and static LACP(Link Aggregation Control Protocol)).
l QoS function based on port speed limit, portmirror, priority trust, flow classification, flow policy, priority mapping, andqueue scheduling and so on.
l Interface protection.
l Jumbo frame setting (maximum 9720 bytes).
l Flow control.
l LFP (Link Fault Pass).
l DDM (Digital Diagnosis Monitoring).
l MAC Address forwarding control.
l IEEE 802.1X authentication.
l ACL (Access Control List).
l Broadcast storm repression.
l Remote in-band monitoring management.
l Remote power failure alarm.
l NTP (Normal Temperature and Pressure) andRMON (Remote Network Monitoring).
l Upgrade of software through TFTP (TrivialFile Transfer Protocol).
Typical application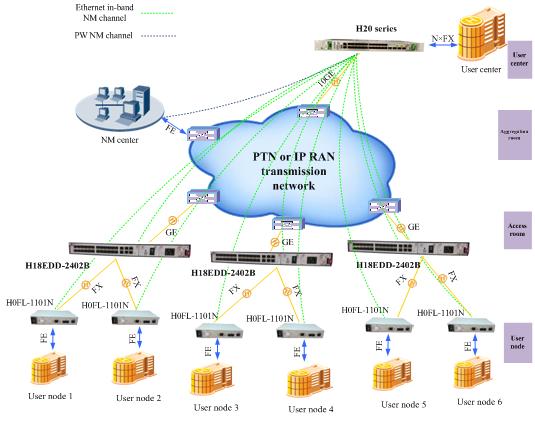 Functions
| | |
| --- | --- |
| Item | Descriptions |
| VLAN | IEEE 802.1Q , IEEE802.1ad |
| STP/RSTP/MSTP | Point to point mode, implements seconds level link protection switching to ensure highly reliable network quality |
| Link aggregation | 3 load sharing algorithms: S-MAC, D-MAC, S-MAC+D-MAC , up to 14 aggregation groups |
| Loopback detection | Overcomethe influence of loops on network and improve the self-checking, fault tolerance, and robustness of network. |
| QoS | Port limited speed, port mirroring, priority trust, flow class, flow policy, priority mapping, queue scheduling |
| Interface protection | Implementisolation of layer 2 and layer 3 data between interfaces in the interface protection group. |
| Flow control | coordinate two interfaces for normal transmission |
| DDM | Monitor optical port connection status and quality and the intelligent optical module's emission optical power, reception optical power, temperature, work voltage, laser offset current, and other parameters. |
| EFM | Complies with IEEE 802.3ah protocol, a link-level Ethernet OAM technology, focuses on link between two directly connected devices and provides link connectivity check, link fault monitoring, remote fault notification, and other functions. |
| CFM | Conduct active fault diagnosis for EVC (Ethernet Virtual Connection) and reduce network maintenance cost. |
| SLA | Collect statistics of response time, network jitter, delay, packet loss rate, and other network information, monitor the related measures by selecting different jobs for different applications. |
| LLDP | Based on IEEE 802.1ab, NMS can quickly master topology and changing conditions of layer-2 network. |
| MAC address forwarding control | supports up to 16K MAC address table entries |
| ACL | Basedon port, includes IP ACL and MAC ACL. |
| Strom suppression | The upper limit of bandwidth is 50Mbps, supports limiting bandwidth of three kinds of broadcast flow: Unknown unicast flow, Unknown multicast flow, Broadcast flow. |
| LFP | Link Fault Pass, avoid flow loss when uplink fault cannot be sensed by the lower layer devices. |
| RMON | Remote Network Monitoring, realizes functions of statistics and alarm, monitor the remote device more actively and effectively than SNMP, making network administrators can track failures occurring to the network, segment and device more quickly. |
| DHCP | Dynamic Host Configuration Protocol, client/server model, realize dynamic configuration of things like IP address. |
| NTP | Network Time Protocol, a time synchronization protocol defined by RFC1305, used for the time synchronization between distributed time server and client. |
Specifications
100/1000 Base-Tx port

Interface specifications

Complying with IEEE 802.3, IEEE-802.3u, IEEE 802.1Q, IEEE 802.1p

Interface rate

100M/1000M

Operation mode

Auto-negotiation, 1000M full-duplex, 1000M half-duplex, 100M full-duplex, 100M half-duplex

Interface connector

RJ-45 socket

Interface number

2

Frame length

The maximum frame length can be set to 2000 or 9720 bytes

100/1000 Base-Fx port

Interface specifications

Complying with IEEE 802.3, IEEE-802.3z, IEEE 802.1Q, IEEE 802.1p, IEEE802.1ad, IEEE802.1d, IEEE802.1w, IEEE802.3ad, IEEE802.3ah, IEEE802.1ag, Y1731 and etc

Interface rate

100M/1000M

Operation mode

Auto-negotiation, 1000M full-duplex, 100M full-duplex

Interface connector

SFP socket

Interface number

2

Transmission wavelength and distance

Determined by optical module

10/100 Base-Tx port

Interface specifications

Complying with IEEE 802.3, IEEE-802.3z, IEEE 802.1Q, IEEE 802.1p, IEEE802.1ad, IEEE802.1d, IEEE802.1w, IEEE802.3ad, IEEE802.3ah, IEEE802.1ag, Y1731 and etc.

Interface rate

10/100M

Operation mode

Auto-negotiation, 100M full-duplex, 100M half-duplex, 10M full-duplex, 10M half-duplex

Interface connector

SFP socket

Interface number

1 NM out-of-band NM port

Transmission wavelength and distance

Determined by optical module

100 Base-Fx port

Interface specifications

Complying with IEEE 802.3, IEEE-802.3z, IEEE 802.1Q, IEEE 802.1p, IEEE802.1ad, IEEE802.1d, IEEE802.1w, IEEE802.3ad, IEEE802.3ah, IEEE802.1ag, Y1731 and etc.

Interface rate

100M

Operation mode

Auto-negotiation, 100M full-duplex

Interface connector

SFP socket

Interface number

24

Transmission wavelength and distance

Determined by optical module

Power Supply

Voltage

DC -48V(-36V~-72V)

AC ~220V (AC 85V~265V)

Power consumption

Consumption

≤8W

Environment

Working temperature

-5ºC ~55ºC

Storage temperature

-40ºC ~70ºC

Relative humidity

0%~95%(non-condensing)