Products Guide
H9MO-LMP30 Compact Hybrid Multiplexer


Product Overview
H9MO-LMP30 is a small optical transmission-access integrated device, whose multiplexing unituses SDH/MSTP technology with 2 STM-1 optical ports. There are 4/8 E1 ports, 4 100Base-Tx Ethernet ports and 30 PCM voice ports on the service side. Voice ports use internal sub-card structure, which can provide different numbers ofvarious service interfaces like FXO/FXS/hotline/magnet/4-wire/2-wire/asynchronous data by configuring/changing different service sub-cards. As a transmission-access integrated device, it can not only be used for simple remote point-to-point fiber connection, but also can form a self-healing ring network or a chain network, or realize complicated cross-network inter connection through STM-1 optical ports and SDH transmission network.
H9MO-LMP30 is a member of Huahuan "Metro-Edge Express". "Metro-Edge Express" is a multi-services access and SDH transmission platform built on MSTP/SDH technology. It realizes the features of unified TDM and broadband data access,aggregation, switching as well as management. It is designed to meet the demands of applications in traditional telecom services and broadband data services and adapts to the integration trend of voice and data services for MAN and various private networks.
Features
l Multiple business ADM/TM equipment, suitable to form a ring, chain form network, support SNCP protection switch.
l Standard STM-1 optical interface. wavelength and power, optical interface type optional.
l Support multiple user interface type, including E1 / Ethernet and voiceport .
l Four Ethernet port comply with IEEE 802.3 standard, support auto-negotiation, and 10/100 M full duplex/half-duplex forced mode;support AUTO-MDIX .
l 4 E1 port comply with ITU-T G-703, built-in error tester and loop back testfunction.
l Support 30 channel 2W Voice port (FXO/FXS / 2100 Hz magnets), or 22 channel 2W phone + 8 channel 4W audio + 4 channel E&M signaling .
l Support laser automatic shutdown ALS function.
l Abundant alarm instructions, including AC power lost instructions alarm.
l Support the path protection switching report function.
l 19 inches 1 U standard chassis .
l Wide-range DC -48V and AC 220Vdouble model power supply .
l Support lower program and FPGA program online upgrading and level 1 versionreturn back.
l Can work with SDH equipment and realize network management.
Technical Specifications

Item

Description

STM-1 port

2xSTM-1 port, SC/PC

E1 port

4/8xE1 ports, BNC/RJ48C/CC4 connector

Ethernet port

4 FE ports, RJ45 connector, 10Base-TX / 100Base-TX, Auto-negotiation

NMS port

10Base-T/100Base-T , auto-negotiation

Low speed port

Supply up to 30 channel voice, including FXO, FXS, Hotline, Magneto, 2/4W+E&M, RS232/422/485

Power

AC: 1U device: 100~240 V, 50/60Hz
2U device: 90~264 V, 50/60Hz

DC: 1U device: -48V (-72V~-36V)
2U device: -48 V (-72V~-36V)

Consumption

£50 W

Working temperature

-10 ~ 55°C

Humidity

0-90%RH ((Non-condensing)

Mechanical size

1U device: 45mm x 290mm x 440mm
2U device: 90mm x 290mm x 440mm
Typical Application

Point to Point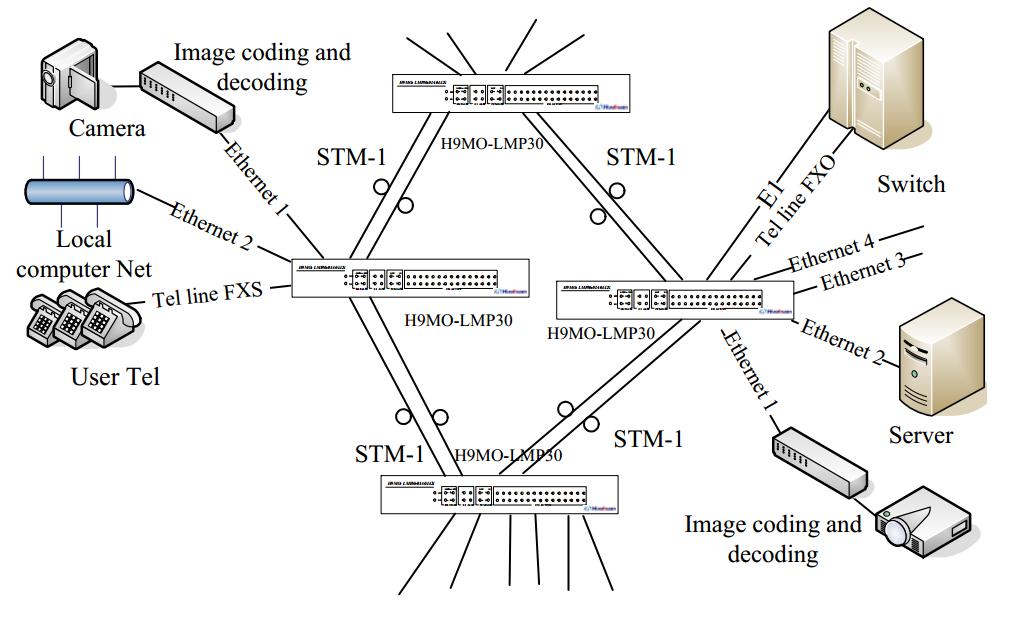 Ring Network