Products Guide
H9MO-LMFE mini-MSTP

Product Overview
H9MO-LMFE is a carrier-class,cost-effective, compact (only 1U high), STM-1/STM-4/STM-16 SDH/MSPP platform that is designed for application in metro and access networks to facilitate the efficient transport of traditional TDM and emerging data traffic for service providers.

H9MO-LMFE is a cardbased compact SDH equipment, designed mainly as a gateway node between the core SDH network and a number of remote CPE boxes. It may also be used as a multi service SDH ADM node in a typical ring or mesh network. The 1U high 19" wide chassis of the H9MO-LMFE has 8slots, with 2 slots for the DC(1+1)/AC power supply, 1 slot for network management card, 1 slots for STM-1/STM-4/STM-16 uplink, and 4 slots left forservices (STM-1, Ethernet, E1, E3/DS3, V.35 Etc.).
H9MO-LMFE supports multiple SDH network features as follows:
l Support1+1 MSP, SNCP protection
l Management channel can be DCC/E1/VC12
l Support up to STM-16
l E1 BERT test is embedded
l Internal clock/external clock/line clock/clock holdover
l Ethernet service supporting GFP encapsulation, VC12 virtual concatenation and LCAS, PVLAN, 802.1Q VLAN and QinQ
l Large cross-connect matrix capacity, support up to 46*VC-4 of VC-4 level full cross connection and 24*VC-4 of VC-12 or VC-3 level full cross connection
l 64 remotesite's Ethernet over 8*E1 aggregation
l 252 remotesite's Ethernet over 1*E1 aggregation
l 64 Ethernet over SDH aggregation
H9MO-LMFE supports the following services ondifferent ports:
l STM-1o/STM-1e/STM-4/STM-16
l GE/FE(Optical and Electrical)
l E1/V.35/E3/DS3
Hardware Architecture
Slot description:
H9MO-LMFE is composed of aggregation card and tributary service card. There are 8 slots, including 2 slots for hot standby power cards, 1 slot for management card, 1 slot for SDH cross-connection cards, and 4 slots for tributary cards.
Features
Cross-connection Capacity

High Order: 46*46 VC4s

Low Order: 1512*1512 VC12s

Cross-connection mode

bidirectional, unidirectional, multicast/broadcast and loopback
Specifications
Index

Performance Parameter

SDH/PDH Interface

Max

STM-1

2 aggregation + 8 tributary STM-1 optical interfaces (Can be SFP)

STM-4

2 aggregation STM-4 interface,, SFP

STM-16

2 aggregation STM-16 interface, SFP

Connector

SC/PC or FC/PC or SFP

Spec.

S-1.1, S1.2, L-1.1, L-1.2, S4.1, S4.2, L4.1, L4.2, S16.1, S16.2, L16.1, L16.2

Single fiber bi-directional interface can be optionally supported

Service Card

PWR01

DC-48V power card, 1+1 backup

PWR02A

Power Card ~220V AC

PWR02B

Power Card ~110V AC

NM02

Network Management Card

OX01A

Dual STM-1 aggregation optical card

OX01Q

Four STM-1 aggregation optical card

OX01S

Dual STM-1 aggregation optical card (SFP)

OX04A

Dual STM-4 aggregation optical card (SFP)

OX16A

Dual STM-16 aggregation optical card (SFP)

EX01

Dual STM-1 aggregation electrical card

OS01

OS01S

Dual STM-1 tributary optical card, SFP

OS02

2 Ethernet +Dual STM-1 tributary optical card

OS02A

2 Separate Ethernet +Dual STM-1 tributary optical card

OS03

1 Ethernet +Single STM-1 tributary optical card

OS04A

Dual STM-4 tributary optical card

OP02

2×E1+1×V.35 PDH card

OP03

2×E1+1×100Base-Tx PDH card

OP05

4×E1+1×100Base-Tx PDH card

OP06

4×E1 PDH card

EP01

24×E1 (75W or 120W RJ45, occupies 2 slots)

EP01A

24×E1 (120W, DB60)

EP03

12×E1 (75W or 120W RJ45)

EP03A

12×E1 (120W, DB60)

EP02

1×E3/DS3

FE01

4 FE over 4 VCG trunks (EoS)

FE02

4 Fx over 4 VCG trunks (EoS), SFP

FE04

4 FE over 1~16E1 (EoE)

FE05

4 Fx over 1~16E1 (EoE), SFP

FE06

Ethernet aggregation, EOS, aggregation ratio: 8:2, dual FE ports

FE06A

Ethernet aggregation, EOS, aggregation ratio: 4:1, single FE port

FE07

EOE, Ethernet aggregation, aggregation ratio: 8:2, dual FE ports

GX01A

EOS, Ethernet aggregation, aggregation ratio: 8:1, single GE electrical or optical port

GX02A

EOE, Ethernet aggregation, aggregation ratio: 8:1, single GE electrical or optical port

GX05

EOS, Ethernet aggregation, aggregation ratio: 16:1, dual GE electrical or optical port

GX06

EOE, Ethernet aggregation, aggregation ratio: 16:1, dual GE electrical or optical port

GXS06

Standard EOE, Ethernet aggregation, aggregation ratio: 16:1, dual GE electrical or optical port

EA05

EOS, Ethernet aggregation, aggregation ratio: 16:1, no outer Ethernet port

EA06

EOE, Ethernet aggregation, aggregation ratio: 16:1, no outer Ethernet port

EAS06

Standard EOE, Ethernet aggregation, aggregation ratio: 16:1, no outer Ethernet port

GE01

2 GE Opitcal/Electrical port over 2 VCGs Trunk (VC-4 Level)

ED01

2×V.35 Card (framed or unframed)

DX01

VC-4/VC-3/VC-12 level cross connection

DX02

Full 64E1 DS0 cross connection (2048×2048,64K)

LA01

Order wire and external clock card

PDH interface

Max E1

72 E1s

Max E3/DS3

4 E3/DS3

Ethernet

Interface

10/100Base-Tx or 100Base-Tx, Comply with IEEE 802.3

Max FE Interface

16 FE ports (14 FE01 or FE02 cards support)

Encapsulation

Comply with ITU-T G.7041 (VCAT, GFP, LCAS)

V.35

Max Interface

8 V.35 interfaces (framed or unframed) DCE/DTE

Cross-connect Capacity

Uplink STM-1

High order 12×12 VC-4s

Low order 756×756 VC12s

Uplink STM-4

High order 16×16 VC-4s

Low order 1008×1008 VC-12s

Uplink STM-16

High order 46×46 VC-4s

Low order 1512×1512 VC-12s

Management

Interface

10/100 Base-T (can be cascaded)

EOW interface

Standard socket RJ11

Physical Dimension(H/D/W)

1U: 440 × 44 ×280 (mm)

Power

Supply

-48V DC / 220V AC

Consumption

≤40W

Environment

Temperature

0°C~50°C

Humidity

≤90 %(non-condensing)

Weight (full-load)

≤3.5KG
Typical Application

l Integrated Services Access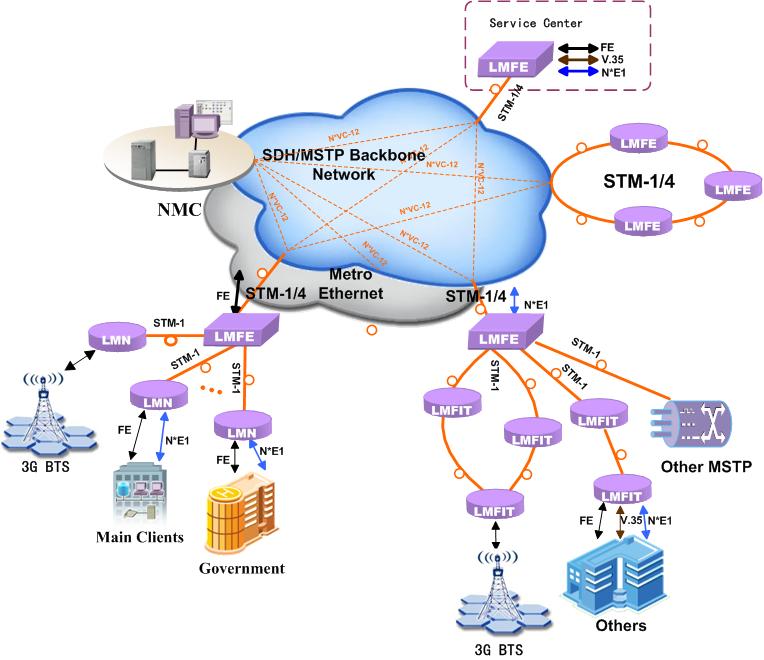 l Ethernet over PDH Aggregation Application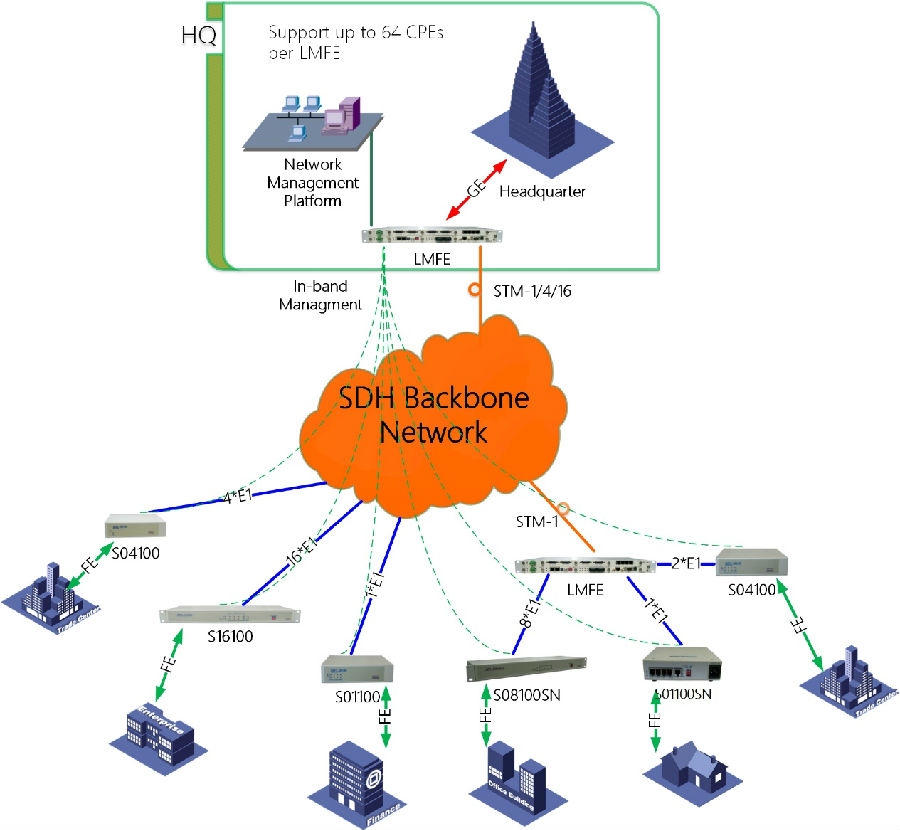 Standard Compliance
Items

Standards and Protocols

SDH Interface

ITU-T G.957, G.707

E1 port

ITU-T G.703, G.704

Clock port

ITU-T G.823

IEEE 802

G.7041/G.704 2/G.7043 and G.8040