Products Guide
HXJY-1001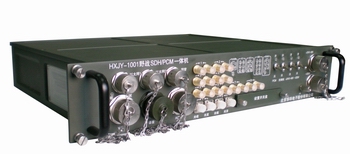 Product Overview
HXJY-1001 Wild SDH/PCM all-in-one device (referred to as the"all-in-one" in the following), is a small optical fiber transmission and access equipment which is suitable for field environment. All HXJY-1001 interfaces are located in the front panel. HXJY-1001 transmitting multiplexing units adopt SDH/MSTP technology. It both can be used in simple point-to-point connections and constitute aself-healing ring network or chain network. The service interfaces include E1,A-Port, V.35 Port, Ethernet Port, Telephone Port etc. In order to adapt to the different power supply conditions, This device supports three kinds of power supply mode: AC220V, DC-48V, or DC+24V. Multiple LED's on the panel provideuseful operational and diagnostic information.
HXJY-1001 can be set by the switch to independent MSTP/SDH transmission equipment, independent PCM equipment, SDH/MSTP and PCM double machine equipment working independently orall-in-one equipment. When used as a single function devices, other parts do notwork to achieve a longer working time.
When it works as an independent SDH/MSTP equipment, the transmission interfaces are STM-1 Fiber Interfaces, service interfaces include 8 E1 ports, 1 A-Port, 1 V.35 Port and 2 Ethernet Ports.
When it works as an independent PCM equipment, interfaces of line side are 2 E1 ports, service interfaces include voice interface, Ethernet port, V.35 port, RS232 port etc.
When works as independent PCM equipment, it can also choose to ADM mode or TM mode.
When both SDH and PCM switch is on, the device can choose to work in all-in-one mode or dual machine mode according to dip switch.
Features
² Standard STM-1 optical interface,large capacity, a variety of service interface mapping according to the standard of SDH, easy to connect with the fixed SDH/MSTP transmission network
² Can form ring self-healing network or 1 + 1 protection point-to-point transmission to improve the survivability of the network
² Preset the terminal mode, the point-to-point interconnection doesn't need network management to configure, easy to expand quickly
² Transmission and access are integrative, easy to use, reduce the interconnection between equipments , increase the reliability
² Ethernet service mapping use GFP/VC-12 virtual concatenation technology,abundant bandwidth, meet the MSTP standard;
² 6~8 E1 ports and V.35 ports
² A-Port can be used in covert or overt transmission,adaptive rate,can also be used as PCM transmission interface
² 16 ordinary telephone FXS or FXO interfaces,or other voice interfaces in different number can be selected
² 19 inch 2U allclosed chassis,wide working temperature range,suitable for field requirements
² DC -48V,DC+24V or AC 220V multimode power supply, low power dissipation
Specifications
Item

Description

Type

Max Number

SDH signal port

2

transmission rate: 155520kbit/s(STM-1,G.957,frame structure G.707)

line code: scrambling code NRZ

Optical interface connector: FC/PC

V35 port

1

Port Rate: N × 64kbps ( 1 ≤ N ≤ 32)

Port mode: DCE/DTE

Connector: Y50EX-1415ZK14N

Ethernet port

2

Port rate:10/100M adaptive

Channel bandwidth:2M~100M

Port mode: half-duplex, full-duplex mode adaptive

Connector: Y50EX-1006ZK14N

A-Port

1

Port Rate: 128kbps, 256kbps, 512kbps, 1024kbps, 2048kbps adaptive

Port mode:frame alignment signal

Connector: Y50EX-1419ZK14N

E1

8

Port Rate: 2048kbit/s ± 50ppm

coding: HDB3

impedance:75Ω

connector:L9

Voice

Depend on the card

Traditional telephone interface

Hotline

Data port

magnet interface

4W voice

Power

Supply optional

DC -48V(from -36V to -72V)

DC+24V(from 18V to 36V)

AC 220V (180V ~ 260V, 50~60Hz)

Consumption

≤40W

Dimension

(W×H×D)

485 × 88 × 365 (mm) except the handle

485 × 88 × 400 (mm) include the handle

Working Environment

Working Temperature

-20°C ~ 60°C

Storing Temperature

-55°C ~ 70°C

Humidity

≤ 100RH %

Weight

≤8.5kg
TypicalApplication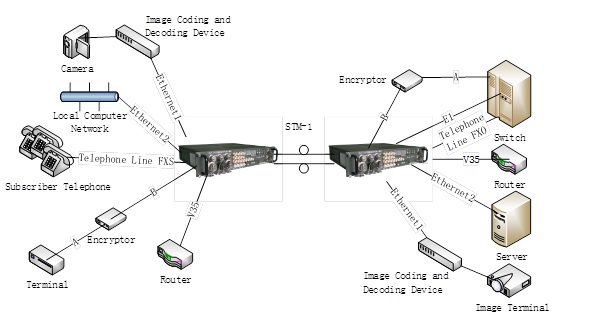 Application-1: P2P (Point to Point) Application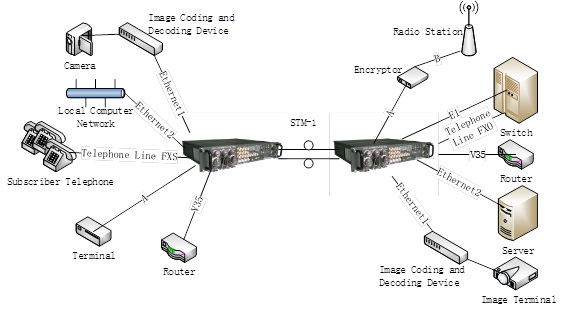 Application-2: Encryptorovert port extend Application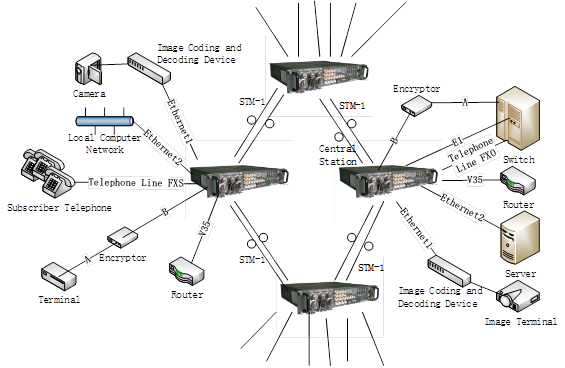 Application-3: Ring NetworkApplication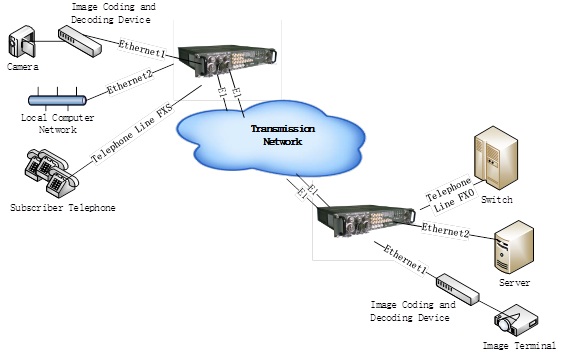 Application-4: PCMterminal 2E1 Application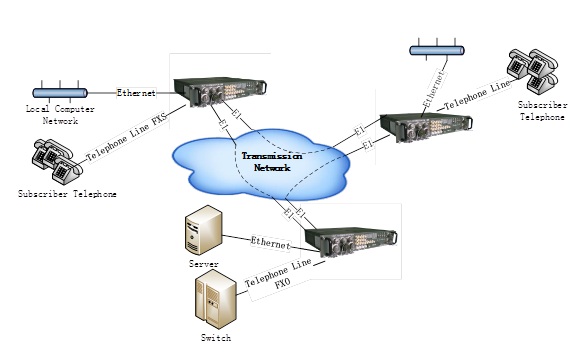 Application-5: PCMterminal ADM Application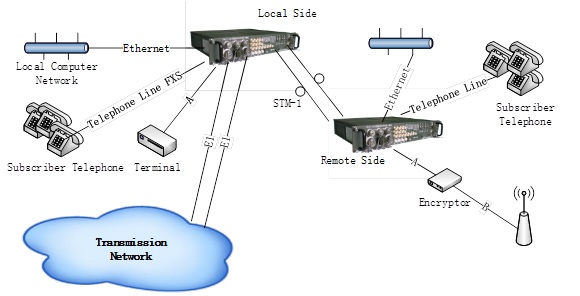 Application-6:SDH/ PCM double machine mode Application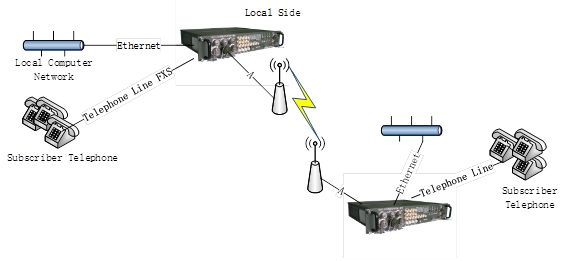 Application-7:A-Port PCM terminal Application