Products Guide
HXJY-1002
Product Overview
The HXJY-1002 is a special purpose, military grade SDH MUX, designed for point to point connections over optical fiber links in the field. The design of the MUX is based on SDH/MSTP technology. A rich set of LED's on the front panel provide useful operational and diagnostic indications. The device may also be monitored and controlled via a GUI based management software.
The signal at opticalline interface on the HXJY-1002 is STM-1. At 155.52Mbps, it provides abundant transmission bandwidth. Service interfaces include 8xE1 ports, 1xA-port, and 2xEthernet ports. The 2 Ethernet ports are connected to an internal Ethernet switch, with a trunk port internally connected to a 100M full rate virtually concatenated channel of 46 VC-12's to the remote unit. The A-port on the equipment is often used for secure communication requirement.
HXJY-1002 is enclosed in a standard 19 inch1U rack mount aluminum chassis. It uses industrial grade components, and is environmentally sealed for harsh operational conditions
Features
² Industrial grade components.
² Standard STM-1 fiber interface.
² 8 E1 ports, 120 ohm interface.
² 1 A-port, auto-rate,works with encryption device.
² 2 Ethernet switched 10/100BASE-T ports, VLAN and priority capable, GFP/VC-12 virtual concatenation technology, 100Mtrunk bandwidth, MSTP standard compliant.
² Cross-connect between A-port and E1's, may be used as A-port/E1 converter.
² 19 inch 1U compact design, light weight, environmentally sealed.
² +24V DCpower supply, low power consumption.
Specifications

Item

Description

Type

Max Number

STM-1

1

G.957, Framing G.707

Line Code: Scrambled NRZ

Connector: FC/PC

E1

8

ITU-T G.703, 120ohms

Line Code: HDB3

A port

1

2048k/1024k/512k/256k/128kbps,

Line Code: AMI

Interface Mode: Signal-5 input/output selectable

FE

2

10/100M half-duplex, full-duplex mode adaptive

VLAN priority setting

Power

Supply optional

DC +24V (18V to 36V)

Consumption

≤10W

Dimension

(W×H×D)

482×44×284 (mm)

Working Environment

Working Temperature

-20°C ~ 55°C

Storing Temperature

-55°C ~ 70°C

Humidity

≤ 95 RH % (non-condensing)

Weight

≤3.7kg
Typical Application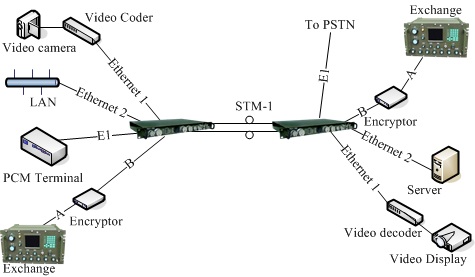 Application-1: P2P(Point to Point) Application
Application-2: Connectwith Existing SDH Transmission Network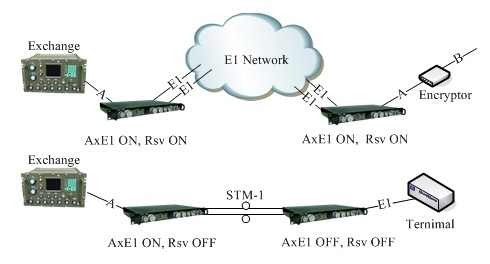 Application-3: EncryptionPort Transmission