Products Guide
HXJY-5030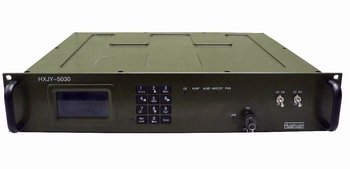 Product Overview
The HXJY-5030 is a special purpose, military grade SDH Multiplexer. It is perfect for extreme adverse outdoor conditions. HXJY-5030 provides various types of service: E1, Aport, voice, FE, V.35, RS232, RS422 and video. Voice channel provides PCMA-coding method and also compressed speech coding. It is both suitable for standard PCM connection and wireless narrow band communication.
The 30 voice interface can be set as FXO, FXS, Hotline and Magneto.Each voice channel can use G.726 to compress the 64kbps PCM data to 32kbps or 16kbps ADPCM coding. Or it can use G.729 to compress the data to 8kbps. For example, when using A port and 8kbps compressing, 30 voice channels can be compressed into 464k time slots. The other 26 time slots can be used for data transmission. Without the compression, all 30 time slots will be occupied. Even if using 1024kbps,after compression the 30 voice channels will still leave 10 64k time slots for data service. When the channel is 128kbps, besides the frame header and signaling, there are 14 8kbps channels left. When voice channel number is N (N£14), the left (14-N)´8kbps bandwidth canbe used for data transmission.
Features
l Rich E1 and A ports, perfect for network design and wide band application;
l Gateway equipment for E1 and A ports;
l Convertion for E1 and A port;
l A port bit rate: 2048/1024/512/256/128kbps;
l 30 voice channels, FXS/FXO/hot line/magenet line configurable, 10 of thevoice channels can be set to 4/W;
l 2 10/100BaseT fast Ethernet and 1 V.35;
l 8 RS232and 4 RS422 asynchronous data;
l 1 video,H.264 coding;
l 10MHz/2048kbps clock input port,4.6ppm high accurate internal clock;
l Voice high compressing module embedded;
l Data channel has error correcting encoder/decoder for bad channel;
l Whole network local/line clock automatic setting;
l 19' 2U electromagnetic compatible and sealed crust;
l Wide working temperature range, perfect for outdoor application;
l LCD display and setting;
l Remote manageable;
l -48V/+24VDC power supply or ~220V AC power supply;
l Low power consumption.
Specifications
Item

Description

Type

Max Number

E1

4

ITU-T G.703, 64k cross connection

A port

2

2048/1024/512/256/128kbps

FE

2

10/100M half-duplex, full-duplex mode adaptive

VLAN priority setting

Voice

30

Automatic telephone;

2100Hz magnet phone;

Hotline;

4W voice/2W voice;

Battery Telephone;

K port;

RS232/RS485;

Video

1*Bi-direction Video + 1*Voice + 1*Control

Coding: H.264

Interface: 75Ω BNC

Bandwidth: 128k~8M

Compatible: PAL, NTSC

V.35

1

N ´64kbps (1 £ N £ 32)

Power

Supply optional

DC -48V/+24V

AC 220V

Consumption

≤50W

Dimension

(W×H×D)

480 × 88 × 365 (mm)

Working Environment

Working Temperature

-20°C ~ 60°C

Storing Temperature

-55°C ~ 70°C

Weight

≤10kg
Typical Application

Application-1: P2P(Point to Point) Application
(The satellite can be other medium such as SDH and microwave)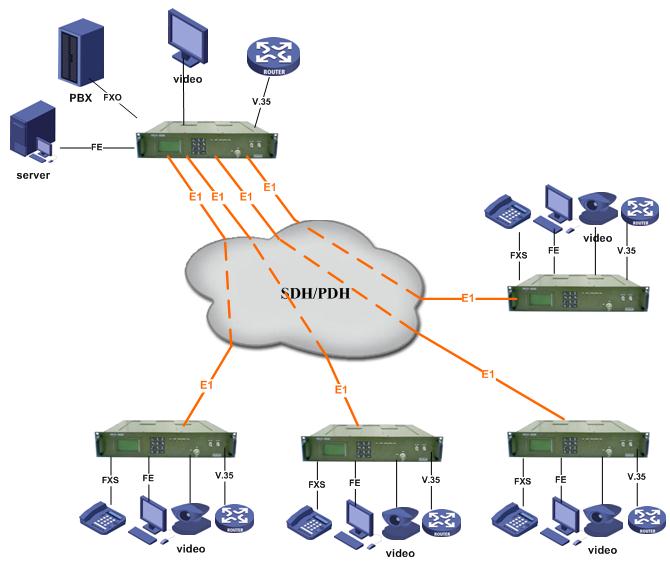 Application-2: Star Application

Application-3: Encryption Port Transmission