Products Guide
H0FL-P.V5 Converter Rack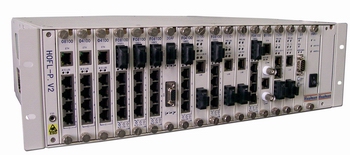 Product Overview
H0FL-P.V5 interface converter rack is designed to aggregate multiple E1/FE/GE/V.35 ports in one standard rack at the advantage of high integration and better management. It is 3U high, 19" standard rack type used in centralside, supporting up to 16 interface converting cards. It supports module as Ethernet access, protocol converter, media converter, PDH multiplexer and soon. H0FL-P.V5 can connect to remote independent interface converters in the application of LAN, MAN or WAN network connection.
Features
w Support 16 interface converter cards and 16 service directions with remote interface converters;
w Support multiple service cards like Ethernet access, protocol converter,media converter, PDH services and so on;
w All service support remote management to reduce user-side management workload greatly;
w Rich LED indicators for network link and working status;
w Various service interfaces comply with corresponding international standards and recommendations;
w PWR cards support hot swap and dual power supply, providing redundancy protection.
Specifications
Item

Description

PDH Optical Port

Wavelength

Single mode 1310nm, 1550nm optional

Connector

SC or FC

Ethernet Electrical Port

Working Mode

10/100/1000 Base-Tx half/full duplex auto-negotiation mode and manual mode (1000M full-duplex, 100M/10M half/full duplex), HP auto-MDIX

Connector

RJ-45

Connecting Cable

Cat 5/Cat 5e UTP

Port Number

1~2

Transmission Distance

Up to 100m

Related Standards

IEEE-802.3/802.3u/802.3ab/802.3ah

Ethernet Optical Port

Wavelength

Single mode 1310nm or 1550nm

Optical Connector

SC or FC

Port Number

1~2

Related Standards

IEEE-802.3z

E1 Port

Nominal Rate

2048Kbps±50ppm

Interface Code

HDB3

Interface Impedance

75Ω (unbalanced) or 120Ω (balanced)

Related Standards

ITU-T G.703, ITU-T G.823

Connector

BNC, CC4, RJ-48C or dual-E1 socket

V.35 Port

Interface Rate

N×64K(N=1~31), transparent transmission

Clock

DCE main oscillator clock, DCE E1 line clock or DTE V.35 interface clock

Working Mode

DCE or DTE

Connector

DB15 hole-socket

NM/Console Port

Ethernet NM port

RJ-45, using SNMP, 10Base-T Ethernet MDI port

RS232 port

Baud rate: 9600; Data bit: 8; Stop bit: 1; No parity bit; 9-pin D-type socket

Power Supply

-48 V DC (-69V~-40V)

~220V AC (200-240V), 2A, 100W

~110V AC (100-120V), 3A, 100W

Power Consumption

≦70W (full loaded)

Environment

Temperature

-5℃~45℃

Relative Humidity

≦90% (non-condensing)

Dimension (W×H×D)

437mm×132mm×300mm (without mounting ears)

483mm×132mm×300mm (with mounting ears)

Weight

≦8.1Kg (full loaded)
Typical Application