Products Guide
H0FL-EoS01 FE over STM-1 Converter


Product Overview
H0FL-EoS01/H0FL-EoS01F is one of Ethernet/STM-1 converters which deliver Ethernet services over SDH STM-1 circuit.
H0FL-EoS01 provides one or two STM-1 SDH optical interfaces and two 100M full-duplex Ethernet electrical ports, and H0FL-EoS01F provides one or two STM-1 SDH optical interfaces, two 10/100M Ethernet electrical ports and one 100M Ethernet optical port. It encapsulates Ethernet frame to SDH payload, providing fast and cost-effective Ethernet access for carriers and service providers. The standard STM-1 enables connection with any SDH multiplexers from other vendors to access backbone network or get simple point-to-point network directly.
Features
s Standard STM-1 optical ports, supporting 1+1 protection, dual or single fiber transmission, different wavelengths and powers can be selected;
s Provide two Ethernet interfaces, and a 100M optical port, optical port can be independently Plug;
s Ethernet mapping adopts GFP/VC-12 virtual concatenated technology; according with MSTP criterion;
s Q3 or SNMP (10/100Base-T) network management port
s Standard 1U high, 19"box
s -48V DC or 220V AC power supply
s Substrate program on-line update supported
s High reliability, low CAPEX andOPEX.
Technical Specifications
SDH Interface

Max

1~2 STM-1 optical interfaces (1+1 protection supported)

Connector

SC/PC

Spec

S-1.1, L-1.1, L-1.2

Single fiber bi-directional interface can be optionally supported

Service interface

Ethernet port

2´10/100Base-Tx

1´100Base-Fx

Comply with IEEE 802.3

Management

Protocol

SNMP

Interface

10Base-T

Physical Dimension

1U: 440 × 44 ×138 (mm)

Power

Supply

DC-48V(-38V~-58V);

DC-48V and AC~220V(100V ~ 240V, 50-60Hz) dual power;

DC +24V(18V~35V)

Consumption

≤8w

Environment

Temperature

0°C~50°C

Humidity

≤90 %
Typical Application

Point to Point Application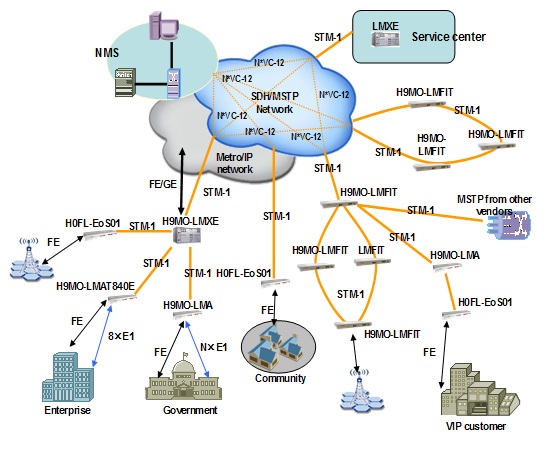 Application in the access network