Products Guide
H16MUP-4G01 Fiber-Optic/4G Dual-routing Protector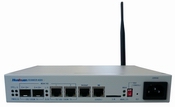 Overview
H16MUP-4G01 fiber-optic/4G dual-routing protector is mainly used in operator's access filed, realizing the uplink access of Ethernet service. It integrates the characteristics of both intelligent optical transceiver and mobile 4G wireless gateway, meeting the requirements of optical fiber access and 4G wireless access. It supports the dual-backup through legacy wired fiber route and 4G wireless route, i.e. when the fiber fails, the existing service will be restored through the operator's 4G network, so as to avoid the losses caused by not repairing the fiber in the short term, and provide a better user experience.
H16MUP-4G01 realizes fiber-optic and 4G wireless dual-routing protection. A business customer's fiber-optic based private line service may be backed up through 4G mobile networks, which is convenient for operators to deploy and costs effectively. This device may also be used for speedy and cost-effective establishment of 4G based private line services, which are particularly suited to remote customers with low speed requirement.
H16MUP-4G01 fiber-optic/4G dual-routing protector provides the OAM management and protection switching mechanism,realizing fast fault detection and triggering protection switching, so as to ensure the telecom's QoS. It supports using SNMP to manage device. Service is deployed through Zero configuration function, which can automatically generatethe correct configurations.
Features
l Supports automatic switching and manual switching between user's service opticalport/electrical port and wireless port; automatic switching is controlled by the connection state of optical/electrical port and active detection of wire channels;
l 4G SIM card is used in the dial-up connection to TD-LTE/FDD-LTE network;
l Point-to-pointand point-to-multipoint connections can be provided by 4G wireless channels,the forwarding rate is not less than 50M;
l 4G connection can be activated in many ways, such as manual activation (network management and short message), online activation, auto activation (activated automatically after cable link failure);
l Multiple PPP authentication methods (CHAP, PAP and etc.);
l 802.1Q-based VLAN and Q in Q, supporting up to 4K VLAN entries;
l MAC address table entries query;
l LACP(manual LAG and static LACP);
l RMON performance statistics;
l Supports broadcast storm repression, which can suppress broadcast packet, multicast packet and unknown unicast packet;
l QoS basedon port, 802.1P and DSCP;
l Supports zero configurations, which establishes the communication with NM server automatically;
l Supports Ethernet loopback detection and shields loopback port automatically;
l Supports OAM protocol of IEEE 802.3ah standard; NE automatic discovery, link fault alarm, power failure and fiber-cut alarm based on OAM protocol;
l LFP (LinkFault Pass);
l STP/RSTP;
l Port speedlimit;
l Online update of system;
l Dual-IP(NM IP and 4G IP);
l Be managed through Web Server, CLI, or in-band NM based on SNMP V2 protocol.
Technical Specification
Type

Specification

Description

100/1000Base-Fx Interface

Interface specifications

Comply with IEEE 802.3, IEEE 802.1q, IEEE 802.1p

Interface rate

2 100/1000M FX

Working mode

Auto-negotiation, 1000M full-duplex, 100M full-duplex

Average output optical power

-10dBm~ -3dBm

Reception sensitivity

≤-23dBm (BER=1×10-10)

Minimum overload point

>-3dBm

Interface number

2 LAN interfaces

100/1000Base-Tx Interface

Operation mode

Auto-negotiation, 1000M full-duplex/half-duplex, 100M full-duplex/half-duplex, 10M full-duplex/ half-duplex

Interface rate

10/100/1000M

Interface connector

RJ-45 socket

Interface number

2 LAN interfaces and 1 WAN interface

Frame length

Maximum 9720 bytes

Chassis size

(W×H×D)

220mm×160mm×38mm

Working Environment

Operation temperature

-5°C ~ 45°C

Storage temperature

-25°C ~ 60°C

Power

AC power supply

AC~220V (AC 100V~240V)

Humidity

10-90%RH (non-condensing)
Typical Application

Application-1: 4Gwireless end to end backup scheme for new business customers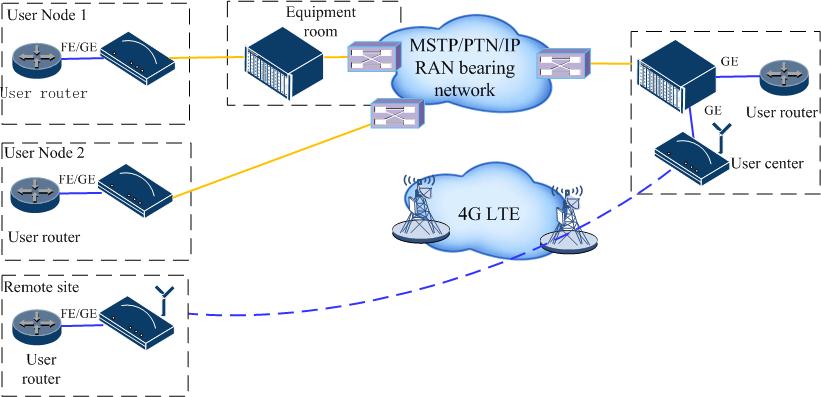 Application-2: 4G wireless access scheme for remote sites