Products Guide
HXMJ-MIT101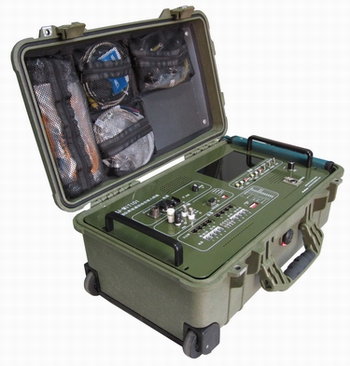 Product Overview
HXMJ-MIT101 is an integrated access terminal based on the next generation network (NGN),belongs to the terminal device of the NGN network access layer. The device can implement the telephone voice service (and fax service), data and video services communications on IP network by using different transmission media,and provides three kinds of remote interfaces Voice service can work with Asterisk, OpenSer and other standard SIP Server, and supports standard SIP,H.323 protocol.
HXMJ-MIT101 device has three transmission ports,they are 1 HDSL, 1 E1 and 1 optical Ethernet (FX). The device provides 8 analog voice ports to meet there quirements of on-site voice service, provides 8 Ethernet ports and 1 composite video broadcast signal (CVBS) port.
HXMJ-MIT101 device can be used for point-to-point connection, and can also interwork with soft-switch stored-program control exchange (SPC exchange) such as SOPHO-IS3000 in market to realize extension agent function. The device configuration management adopts Web Server to configure system or monitor the real-time operation status of device through Webpage browsing in the terminal computer.
Features
l Transmissionport:
Narrowband copper wire transmission: 1G.SHDSL port, comply with G.991.2 standard; 1 E1 port, meet ITU-T G .703recommendation;
Broadband transmission: 1 FX port; complywith IEEE 802.3 recommendation;
l Provide 1 bidirectional video access, adoptH.264 code, provide the picture in picture function, and support microphoneinput;
l Voice port supports 8 channels two-wirephones (FXS /CHP, or FXO(1st-2nd), or 2100Hz magnet (7th-8th)),provide 2 channels telephones for escaping when the power is off;
l Provide 8 10/100Base-T Ethernet ports (can beused as a transmission port or a network port);
l Rich alarm indicators, simple operation,using Ethernet port to monitor;
l Use WebServer to manage the operation of thedevice;
l Support subscribed pattern: point-to-pointinterconnection can be set through Dips instead of NM;
l Support the embedded software and firmwareonline upgrading and updating or the version back off;
l Support +12V DC/220V AC (Bimodal powersupply).
Technical Specifications
Item

Description

Type

Max Number

HDSL Port

1

User mode: Customer premises equipment (CPE)/ Central Office (CO)

DSL working mode: Annex A mode

DSL rate: In Adaptive mode, 192~2304 kbps

Connector: Covered wire binding post

E1 port

1

Bit rate:2.048 Mbps ±50ppm

Line code:HDB3, comply with G.703 standard

Connector: BNC

Input Impedance:75Ω

Frame format: Comply with ITU-T G.704, ITU-T G.706

Compression law: Comply with G.711 A law of ITU-T

Power level:±2.37V±10%

Ethernet Port

Electrical port:8

Port mode:

Electrical port: Ethernet MDI port, auto negotiation mode

Optical port: auto negotiation mode

Protocol: IEEE 802.3

Connector:

Electrical port: RJ45 ,Optical port: SFP

Optical port:1

Video Port

1 channel of input:3

Port mode: Composite signal

Connector: RCA connector

Video bit rate:

128K-15M bps

PAL: 720×576, 704×576, 352×576, 352×288

NTSC: 720×480, 704×480, 352×480, 352×240

Video resolution: TS/TOPAV/VES flow

Encoding class: ISO/IEC-14496-10/H.264 Baseline/Main/High Profile

Frame bit rate: NTSC:30 frame/s, PAL: 25 frame/s

Audio encoding method:AAC-LC,G.711,optical port: 1

Audio bit rate: 16K, 32K, 64K, 192K, 224K, 384K bps

Audio mode: Mono

1 channel of output:3

Voice Port and Signaling (traditional
telephone)

Switching-side

Off-hook impedance: <500W

On-hook impedance:10K

User-side

Loop impedance: ≤2000Ω (including the phone)

Free circuit voltage: ≤50V

Loop current:25mA

Off-hook threshold:8Ma

Polarity reversion delay:<50ma>

Dialing: Pulse dialing monopulse distortion 5ms

The total distortion of in-band tone dialing meets the requirements of voice ports

Off-hook delay:<100ms>

Ringing Current

FXS Ringing Current Generator

Frequency: 25Hz ± 3Hz

Amplitude: 75V ± 5Vrms

Ringing current delay:<50ms>

Total output power: ≤3W (per chassis)

FXO Ringing Current Detection

Amplitude range: 38Vrms (Minimum)

Impedance

600Ω or ternary impedance

Audio range

300~3400 Hz

Encoding law

G.711A law of ITU-T recommendation

2-wire port level

2-wire Tx 0dBr ± 0.5dBr

2-wire Rx -3.5dBr ± 0.5dBr

Return loss

300-600Hz >12dB

600-3400Hz >15dB

Frequency response

300-3400Hz complying with ITU G.713

Air noise

£-65dBm0p

Gain

-45dB~+3dB (Error less than ±0.5dB)

Total SNR

Comply with ITU G.713

Carrier Magnet Port

Voice

Port level: 2-wireTx: 0dBr ± 0.5dBr

2-wire Rx: -3.5dBr ± 0.5dBr

Other voice index: The same as common 2-wire audio

Signaling

Signal detection: The minimum is 20Vrms

Signaling mode: Analog 2100 Hz single-tone

2100 Hz signal generator: -6dBm0 ±1dB(Amplitude)

2100Hz ± 5Hz(Frequency)

Signaling detection: No less than -17dBm(Amplitude)

2100Hz ± 50Hz(Frequency)

Clock

Clock source: Internal clock, Line clock

Chassis size

(H/D/W)

229mm x 351mm x 559mm

Working Environment

Operation temperature

-10°C ~ 50°C

Storage temperature

-20°C ~ 65°C

Power

AC power supply

176~264V AC (47 ~ 63Hz), 50/60Hz

DC power supply

+12V (+9~+15V DC)

Consumption

≤50W

Humidity

0-90%RH (non-condensing)

Weight

15kg
Typical Application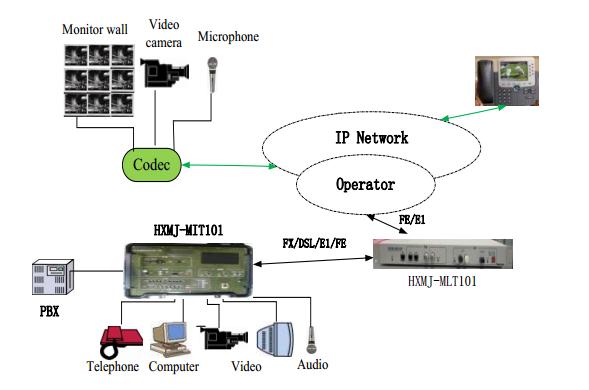 Application-1: Typical Application working with HXMJ-MLT101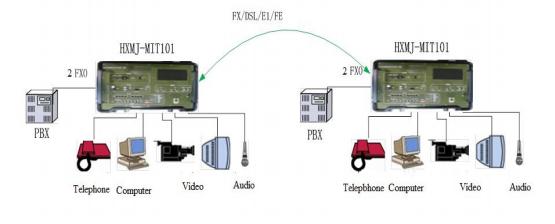 Application-2: Point to Point Application