Mobile Backhaul/Small Cell Backhaul Solution
The H20PN Series is Huahuan PTN (Packet Transport Network) devices, using the MPLS-TP technology to meet the operator's requirements for continuous growth and flexible scheduling of transmission network bandwidth. Provide OAM and protection switching mechanism to realize fast fault detection, trigger protection switching and ensure the carrier-class QoS in packet transport network.
The H20RN Series is IPRAN (IP Radio Access Network) devices focusing on edge of providers' IP/MPLS transport network. They are very suitable for delivering L2VPN, L3VPN, and CES services for customers with end-to-end guaranteed availability, reliability and QoS to the key client. Provide strong capacity,high port-density, and kinds of ports with very compact chassis. GE/FE/STM-1/STM-4/E1 ports are supported.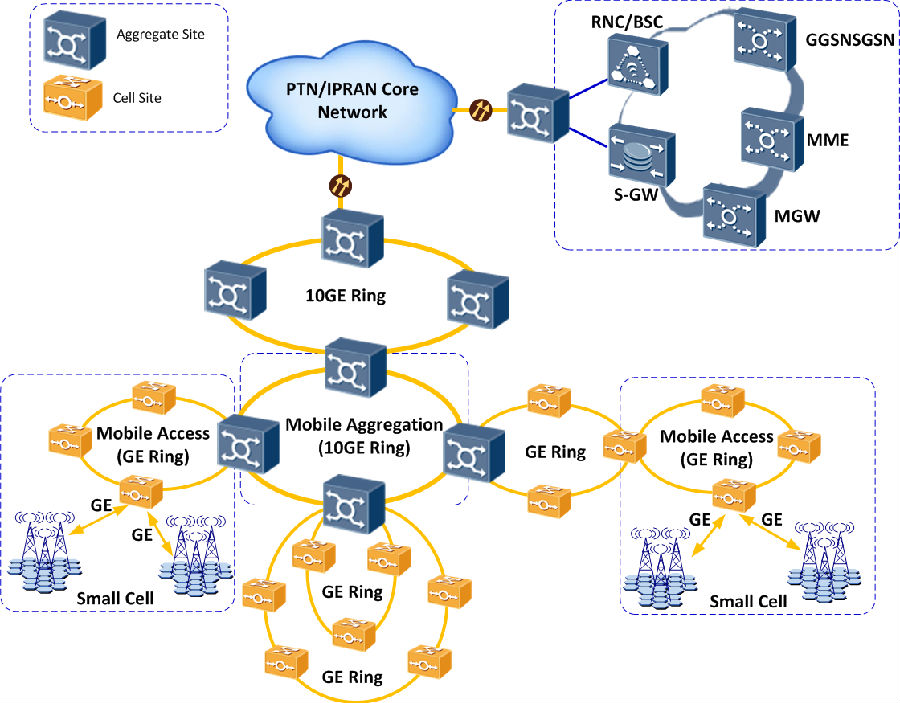 Adopt MPLS-TP technology and support static LSP, MPLS-TP L2VPN,MPLS-TP OAM, MPLS-TP APS functions

Multiple service: E-Line, E-LAN, E-Tree, CES and SDH

Reliable protection mechanism: ELPS, ERPS, Link Aggregation, PW 1+1/ 1:1 protection, LSP 1+1 / 1:1 protection, Wrapping Ring Protection(Share-ringincluded)

Synchronous Ethernet and IEEE 1588 v2 protocol

Ethernet OAM: IEEE 802.3ah, IEEE 802.1ag & ITU-T Y.1731

PWE3 protocol, using SAToP, CESoP, MPLS, IP/UDP, MEF encapsulation method